Compare California Home Security Systems
In the mid 1800s, Americans were drawn to California by the promise of undiscovered gold. But the state's mild climate and more than 1,000 miles of coastline kept settlers coming long after the treasure was tapped. Today, ten percent of Americans call California home, thanks in large part to trendy metropolitan cities such as Los Angeles and San Francisco. The state boasts some of the highest property values in the country, but it also leads the nation in terms of violent crimes – making home security in California a top concern for property owners.
There are several reasons to consider buying a home security system.
A proven reduction in the risk of a burglary or home invasion
Protection for your family and your valuable assets
Discounted insurance premiums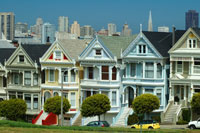 According to the National Burglar and Fire Alarm Association, 90 percent of police chiefs responding to a national survey said alarms not only deter burglars, but also increase the chance of a burglar being apprehended. In the event of a break in, a monitored alarm system provides a critical and potentially life saving link between your home and local police.
When you decide the time is right for a home security system, let Home Security Comparison help. Our California home security quote request service is free and lets you compare multiple alarm services to choose which fits your needs best. Try it today and you'll soon be resting easier, knowing your family and property are protected.
Home Security Comparison serves all cities and towns in California, including:
Fresno
Sacramento
Oakland
Santa Ana
Anaheim
Los Angeles
San Diego
San Jose
San Francisco
Long Beach